VISUAL STAKEOUT + SURVEY IMU-RTK GNSS
The i89 and i93 visual receivers change everything about staking and storing points in the field!

Visual staking: with both forward and down facing cameras, connected by high speed, 300+ MB/sec 5G Wi-Fi; visual staking targets update 25 times each second. Precise onscreen targets indicate the exact stake target point, updated in real time with no delay.

Visual surveying: georeferenced 3D videos recorded along a project's edge allow precise 3D point / object picking in the field, or back at the office.

The purpose built [ iBase ] is the perfect UHF Base companion for these ground breaking receivers.
Links: [ Device Comparison ] [ iBase ] [ Visual Survey Packages ]
Real-Time Navigation and Stakeout

10-X faster stakeout driven by visual feedback of the target location. Guided by a clear, directional arrow, real time distance with audio cues with the stakeout point clearly and accurately marked on the ground.

High speed processing enables instant activation. 5.8 GHz Wi-Fi ensures high-frame rate video. A fast 200-Hz, auto-initializing IMU provides reliable target offsets from the receiver's dynamic position.

Automatic image zoom provides tighter target point visualization.

VPT (Virtual Pole Tip) technology overlays a pole tip at the target point, over the rod, clamps and your hand.

Visual Survey is driven by [ LandStar 8 ]
Two Visual Receiver Choices
Feature Comparison

i89
i93

Price

$7,990
$10,990
$490
$490

Visual stakeout

YES
YES

Visual survey

YES
YES

Visual point-cloud (Q2 2024)

+$1,000 option
YES

Internal LTE 4G Modem

NO
YES

Type C-Data / Charge port

YES
YES

7-pin LEMO RS232 / Charge port

NO
YES

High-resolution display screen

NO
YES

Internal UHF Radio Transmit Power

1-watt
2-watt

Data Storage

8 GB
32 GB

Front Camera, global shutter, low light

5 MP
5 MP

Bottom Camera, global shutter, low light

2 MP
2 MP

IMU Tilt Compensation, auto-initialization

YES
YES

IMU Update rate

200 Hz
200 Hz

Field Software

[ LandStar 8 ]

[ LandStar 8 ]

Includes 2-meter adjustable carbon fiber pole

YES
YES

Battery, internal

4900 mAh,
16.5 hours
9600 mAh,
34 hours

Weight

1.65 lbs
2.54 lbs

Environmental rating

IP68
IP68

Warranty

1 year
1 year

Datasheet

[ i89 DS ]
[ i93 DS ]
Long Battery Life

High energy batteries provide long field operation:

i89 4,900 mAh 16 hours
i93 9,600 mAh 34 hours

Intelligent, fast charging for full battery charge in 3 to 5 hours using standard USB Type-C cables and chargers.

iSTAR 2 FIX
in Harsh Environments

These receivers deliver unmatched performance with 1408-channel, full constellation and full signal tracking.

Time-to-fix rates, fix availability rates exceed all other devices in heavy canopy and harsh environments.

Narrowband multipath mitigation ensures accurate RTK measurements with unmatched accuracy and reliability.

VS rovers work best with iSTAR base engines like the [ iBase ], but also have best in class performance with any generic RTCM3.2/RTCM3.3 base or virtual network correction source.
iBase: 5-watt RTK Base Station
Start your Visual Survey projects in seconds

The iBase 5-watt UHF GNSS station is a purpose built, all-in-one base station with 2 large (7,000 mAh, 7.4 V) replaceable internal batteries.

This provides 12-hours of 5-watt base transmissions without external cables and batteries.

Beyond a simple UHF GNSS station, the iBase also includes a 4G LTE modem for transmitting GNSS corrections to a TCP/IP server.

With a 1,408 channel OEM engine matching the i93 and i89, the iBase is the perfect companion for our Visual receivers.
A FCC License is required for operation, see [ FIT ]
Price

$6,990

Ports

7-pin Lemo: power + RS232 serial

UHF Radio

450 - 470 MHz, 5 watt, Transparent, TT450, 3AS

4G LTE Modem

EG25 LTE Cat-4
FDD in bands 1,2,3,4,5,7,8,12,13,18,19,20,25,26,28

Broadcast Message

RTCM2.x, RTCM3.2, CHC516, RTD, CMR

GNSS Channels

UM980, 1408

Tracking

GPS L1C, A, L2P Y, L2C, L5
GLONASS L1, L2
Galileo E1, E5a, E5b, E6
BeiDou B1I, B2I, B3I, B1C, B2a, B2b
QZSS L1, L2, L5, L6
PPP B2b-PPP
SBAS L1, L5

Tilt sensor

E-Bubble leveling

Datasheet

[ iBase DS ]
INDUSTRIAL GRADE DESIGN

iBase is the GNSS base that you can rely on to survive drops from Tripods and keep working in rain and snow for long workdays.

With IP67 water and dust ingress protection and downward opening battery doors, the iBase is designed to work the real world, on real jobs.

Fully integrated to meet most UHF base needs, iBase eliminates cables, batteries, external radios, external antennas while providing high powered corrections for up to 15 miles.
Visual Surveying Packages
The i89 and i93 Visual receiver kits include a charger and a 2-meter adjustable carbon-fiber prism pole with a bubble and compass: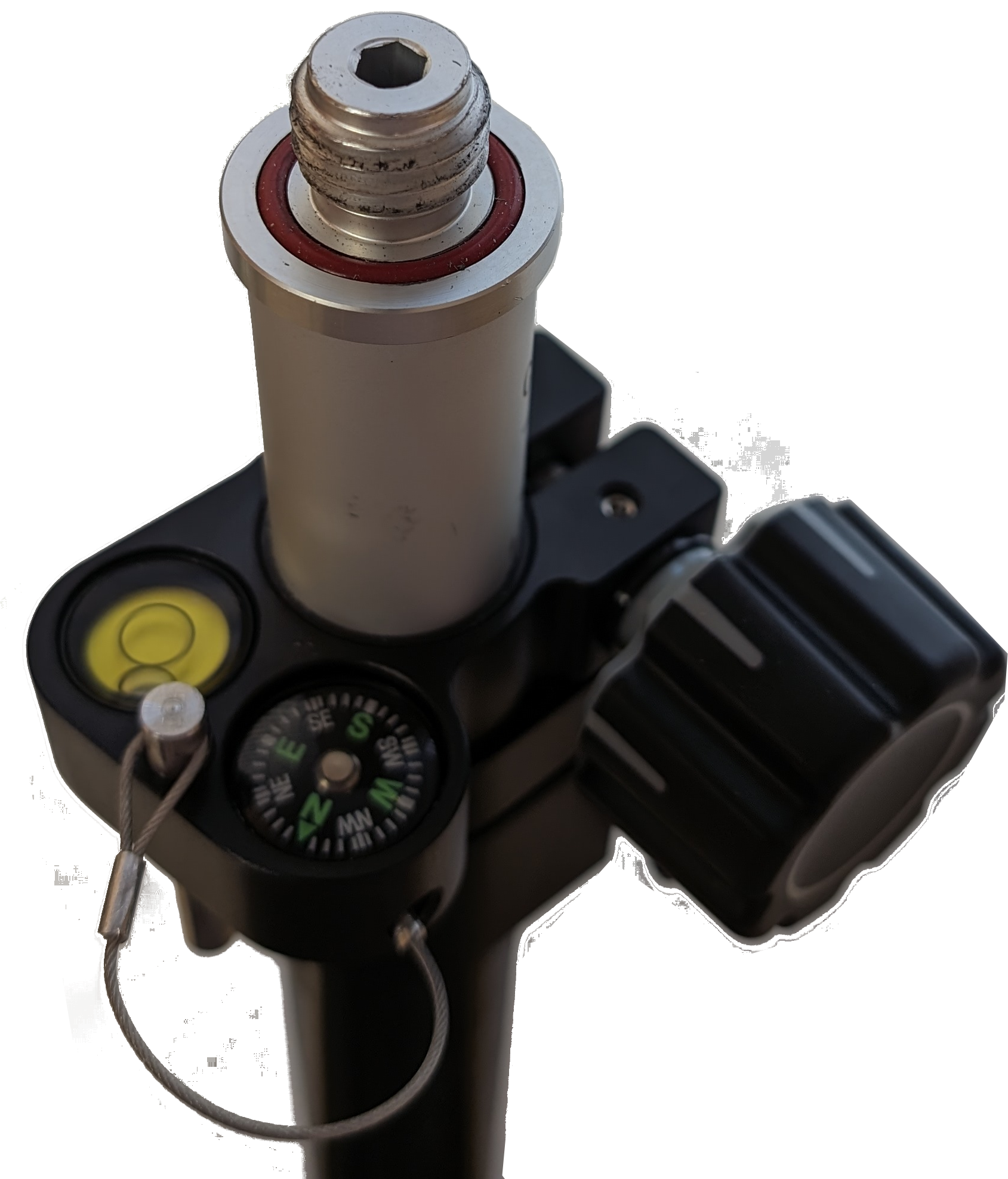 The iBase receiver kit includes two high-capacity batteries, a tribrach with a long-bubble adapter and a 30 cm extension pole:


The iBase is purpose built and matches the Rovers, it is simple to setup and makes the best choice for a Base + Rover pair.
If you already own an X91+, iG8, iG8a, iG9 or iG9a you should consider
using them for a base as LandStar 8 support for these legacy receivers is excellent.
[ LandStar 8 ] is required to run the Visual receivers. No other field software supports the High speed camera functions. If you are worried that LandStar 8 won't meet your field requirements or existing workflow, give it a try using the demo. Call us if you would like a printed user manual.
The following packages are common:
November 2023
Call us for written estimate
with a 30-day validity

Just Visual Rover

Visual Rover
+ LandStar8

Visual Rover
+ LandStar 8
+ iBase

i89
1-Watt UHF Tx, No Cell Modem

$7,990

$8,480

$15,470

i93
2-Watt UHF Tx, LTE Modem

$10,990

$11,480

$18,470

All packages include UPS Ground Shipping to US destinations.
Call us for custom packages, any combination is possible.
Because of [ field processing speeds ] for Visual surveying image processing, we recommend only flagship Android devices:
Google Pixel 6, 7, 8
Samsung S23
Samsung Tab Active 4 Pro 5G
For field use in hot or sunny environments, consider the [ ORCA-2 $1,000 ]
All of these prosumer field devices are deeply discounted online and are a fraction the price of the painfully slow Android collectors we have sold in the past. The Deployment management tools in LandStar 8 make it very simple to switch back and forth between devices, preserving all settings, projects.
Because the Wi-Fi connection is used between the Android device and the Visual receiver, you can only use Android devices that have cellular data connections with the i89 when using a network server. If you are considering purchasing a new tablet, favor the model with an unlocked cellular modem.
Approximate pricing for a Tab Active 4 tablet and a pole bracket on Amazon is $761:
SAMSUNG Galaxy TabActive4 Pro 10.1" 128GB 5G Android Work Tablet, LTE Unlocked, 6GB RAM
$710 [ Amazon Link ]


Tablet Pole Bracket
$23 [ Amazon Link ]


The TabActive4 comes with a lightweight outer shell. This ProCase for Galaxy Tab Active4 Pro:
$28 [ Amazon Link ]

works with the Pole Bracket and has better drop and shock resistance.
You may find better brackets, cases, tablets. There are 100's if not 1000's of them available through many distribution channels. This combination is what we use for demos, it was chosen primarily for Visual Survey processing speed.